Bounty® Basic Select-A-Size™ Paper Towels, White, 1-Ply, 119 Sheets/Roll, 12 Mega Rolls = 20 Regular Rolls (92975)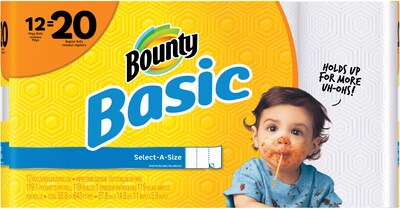 Description
Messes don't quit—neither should your paper towel!
Bounty Basic Mega Roll Paper Towels are 2X more absorbent* so you can use less. These Bounty Select-A-Size paper towels feature unique Trap & Lock Technology that quickly absorbs messes so you can clean up and move on without wasting time or towels. It's the perfect product to upgrade your office cleaning experience. Plus, it comes in a variety of sizes and prints, so you can choose the Bounty roll that's just right for your business. Each basic paper towel case includes 12 rolls. Choose the only paper towel with no quit in it: Bounty, the No-Quit Picker-Upper. *When wet vs. the leading ordinary 11" x 8.8" brand.
12 Bounty Mega Rolls = 20 Regular Paper Towel Rolls

119 sheets per roll

1-Ply

White sheets

Select-A-Size perforated paper towels

5.9" x 11" sheet size

2X more absorbent so you can use less (When wet vs. the leading ordinary 11" x 8.8" brand)

With unique Trap & Lock Technology

Also available in prints

If you love Bounty paper towels, try Bounty Quilted Napkin
Strong Design Stock your supply cabinet with these Bounty Basic paper towels for general cleaning jobs. An absorbent footprint makes them ideal for tackling spills, and their strong design adds to their efficiency and lets them hold up nicely through a variety of cleaning tasks. Choose the Right Size The extra perforations in these Select-A-Size paper towels allow you to control the amount of paper towel you use more easily than with standard paper towels, so you only use what is necessary. Use small sheets for small spills to reduce the amount of paper you use. The perforations are easy to detach, allowing you to clean messes quickly.Mega Rolls for Less Frequent Changing Keep your kitchen or work area well-stocked with these mega paper towel rolls. These thick rolls allow you to spend more time getting work done and less time changing paper towel rolls. Mega rolls also allow you to clean especially large messes without having to grab an extra roll.Bulk Packaging The Bounty Basic 1-ply paper towel 12-roll case is the ideal purchase for affordability and versatility in cleaning supplies. These 119-sheet paper towels can clean up every day messes in any workplace, taking on everything from spilled drinks to dropped food and more. Convenient plastic wrapping also keeps these paper towel rolls protected before use, ensuring you don't lose your paper towels to accidents or humidity.
Specifications
Brand

: Bounty

Weight

: 6.00 lbs. per Pack
Customers also viewed
Bounty® Basic Select-A-Size™ Paper Towels, White, 1-Ply, 89 Sheets/Roll, 12 Large Rolls = 15 Regular

When you buy

4

+

Bounty® Select-A-Size™ Paper Towels, White, 2-Ply, 95 Sheets/Roll, 12 Giant Rolls = 18 Regular Rolls

When you buy

4

+

Sparkle® Pick-a-Size, 2-Ply Paper Towels, 8 Mega Rolls

When you buy

6

+

Brawny® Pick-A-Size XL Paper Roll Towels, 2-ply, White, 8 Rolls/Carton

When you buy

4

+

Scott 15 Roll Choose-A-Sheet Paper Towels

When you buy

4

+

Kleenex® 2-Ply Facial Tissue, Flat Box, 160 Sheets/Box, 3 Boxes/Pack

When you buy

3

+

Bounty® Basic Full Sheet Paper Towels, White, 1-Ply, 44 Sheets/Roll, 30 Rolls/Case

When you buy

4

+

Kleenex® Boutique Facial Tissue, 2-Ply, White, 95 Sheets/Box

When you buy

6

+

Charmin® Ultra Soft™ Toilet Paper, 2-Ply, 154 Sheets/Roll, 16 Double Rolls/Pack (29690)

When you buy

3

+

Angel Soft Professional Series™ 2-Ply Premium Embossed Bathroom Tissue, White, 450 Sheets/Roll, 80 R

When you buy

3

+

Bounty® Select-A-Size™ Paper Towels, White, 2-Ply, 158 Sheets/Roll, 12 Huge Rolls = 30 Regular Rolls

When you buy

4

+

Bounty® Full Sheet Paper Towels, White, 2-Ply, 45 Sheets/Roll, 12 Large Rolls = 15 Regular Rolls (74

When you buy

3

+

Bounty® Full Sheet Paper Towels, White, 2 -Ply, 40 Sheets/Roll, 30 Regular Rolls (PGC 88275/81539)

When you buy

3

+

Kleenex® 3-Ply Anti-Viral Tissue

When you buy

3

+
Customers also bought
Quill Brand Copy Paper, 92 Bright, 20 LB, 10 Reams of 500 Sheets

When you buy

5

+

Quill Brand® 1/3-Cut Letter File Folders

When you buy

5

+

Quill Plus Copy Paper, 8 1/2" x 11", 92 Bright, 20 LB, 10 Reams of 500 Sheets

When you buy

5

+

Nestle® Pure Life® Bottled Purified Water, 16.9 oz. Bottles, 24/Case

When you buy

5

+

Dixie PerfecTouch 12 oz. Hot Cups 50/Pack

When you buy

10

+

Hammermill Copy Paper, 8-1/2" x 11", 92 Bright, 20 LB, 10 Reams of 500 Sheets

When you buy

5

+

Clorox® Toilet Bowl Cleaner with Bleach, 24 oz.

When you buy

4

+

Dixie® Pathways™ 8.5" Medium Weight Paper Plates, 125/PK (UX9WS)

When you buy

4

+

Quill Brand® Standard Staples, 1/4", 5,000/Box

When you buy

6

+
Accessories
Dawn Professional Manual Pot and Pan Detergent, Original, 38 oz.

When you buy

4

+

Bounty® Select-A-Size™ Paper Towels, White, 2-Ply, 95 Sheets/Roll, 12 Giant Rolls = 18 Regular Rolls

When you buy

4

+

Bounty® Select-A-Size™ Paper Towels, White, 2-Ply, 158 Sheets/Roll, 12 Huge Rolls = 30 Regular Rolls

When you buy

4

+

Tide® PODS Spring Meadow HE Laundry Detergent, 72 Pods/Pack (PGC 50978)

When you buy

3

+

Glad® 13-Gallon Drawstring Trash Bags

Softsoap® 1-Gallon Hand Soap

When you buy

4

+

Clorox® Disinfecting Wipes, Orange Fusion™, 75 Count Canister

When you buy

4

+