Bounty® Select-A-Size™ Paper Towel Rolls, White, 2-Ply, 158 Sheets/Roll, 8 Huge Rolls = 20 Regular Rolls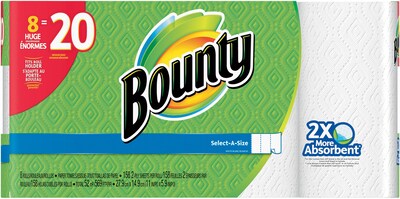 Description
Messes don't quit—neither should your paper towel!
Bounty paper towels are 2X more absorbent* so you can use less. Bounty features unique Trap & Lock Technology that quickly absorbs messes so you can clean up and move on without wasting time or towels. Plus, it comes in a variety of sizes and prints, so you can choose the Bounty roll that's just right for you and your business. Each paper towel case comes with eight huge paper towel rolls, which have the same number of sheets as 20 regular rolls. And the Select-A-Size feature lets you use only what you need, reducing waste. It's the perfect product to upgrade your office cleaning experience. Choose the only paper towel with no quit in it: Bounty, the No-Quit Picker-Upper. *When wet vs. the leading ordinary 11" x 8.8" brand.
8 Huge Rolls = 20 Regular Rolls

2-ply; 158 Sheets

Bounty Select-A-Size paper towels

50% stronger* and affordably priced (*when wet vs. leading ordinary brand)

Also available in prints

2X more absorbent so you can use less (when wet vs. the leading ordinary 11" x 8.8" brand)

With unique Trap & Lock Technology

More softness you will appreciate
Get the Job Done the First Time Clean up spills fast with these Bounty paper towels, the perfect choice for offices, homes, break rooms and janitorial closets. These paper towels feature a 2-ply construction with Trap & Lock Technology that doubles your absorbency rate per sheet, eliminating spills faster than regular paper towels and giving you the luxury of cleaning up messes the first time. Quick cleaning destroys potential breeding grounds for germs and other microbes, and gets the job done without shredding or falling apart. You can now tackle spills and messes with total confidence. Reduce Waste and Cost The unrivalled absorption of these paper towels makes sure you soak up as much liquid as possible in a single wipe. This superior absorption means you use fewer towels for large spills, ensuring that a single roll lasts longer. Bounty paper towel rolls come perforated, giving you the luxury of choosing just the right amount of towel for a job. Clean up messes faster, using fewer paper towels to reduce waste around the office.Bulk Packaging With 158 sheets in each roll, 8 Bounty Huge Rolls provide the same number of paper towels as 20 standard rolls. The larger roll size reduces how often your employees need to refill paper towel dispensers, saving their valuable time for more important tasks. When you buy Bounty Paper Towels in bulk, you can ensure your office has the supplies they need to quickly clean up spills and messes, while reducing how often you need to order supplies.
Specifications
Area of Use

: Indoor

Color Family

: Metallic

Dispenser Height (Inches)

: 13.98

Dispenser Width (Inches)

: 6.1

Height in Inches

: 13.98

Paper Towel Dispenser Type

: Kitchen Towel Holder

Paper Towel Type

: Dispensers

Post Consumer Content (%)

: 0

Recycled Content (%)

: 0

True Color

: Metallic

Width in Inches

: 6.1

Brand

: Bounty

Weight

: 6.50 lbs. per Each
Customers also viewed
Bounty® Select-A-Size™ Paper Towels, White, 2-Ply, 95 Sheets/Roll, 12 Giant Rolls = 18 Regular Rolls

When you buy

4

+

Bounty® Full Sheet Paper Towels, White, 2 -Ply, 40 Sheets/Roll, 30 Regular Rolls (PGC 88275/81539)

When you buy

3

+

Bounty® Full Sheet Paper Towels, White, 2-Ply, 45 Sheets/Roll, 12 Large Rolls = 15 Regular Rolls (74

When you buy

3

+

Bounty® Select-A-Size™ Paper Towels, White, 2-Ply, 158 Sheets/Roll, 12 Huge Rolls = 30 Regular Rolls

When you buy

4

+

Bounty® Select-A-Size™ Paper Towels, White, 2-Ply, 105 Sheets/Roll, 12 Mega Rolls = 20 Regular Rolls

When you buy

4

+

Brawny® Pick-A-Size XL Paper Roll Towels, 2-ply, White, 8 Rolls/Carton

When you buy

4

+

Bounty® Select-A-Size™ Paper Towels, White, 2-Ply, 63 Sheets/Roll, 8 Regular Rolls (PGC 88187/81531)

When you buy

4

+

Charmin® Ultra Soft™ Toilet Paper, 2-Ply, 154 Sheets/Roll, 16 Double Rolls/Pack (29690)

When you buy

3

+

Bounty® Select-A-Size™ Paper Towels, White, 2-Ply, 83 Sheets/Roll, 8 Giant Rolls = 12 Regular Rolls

When you buy

4

+

Angel Soft® Professional Series Bath Tissue, White, 2-Ply, 450 Sheets/Roll, 40 Rolls/Case (16840/166

When you buy

3

+

Georgia-Pacific® SofPull 1-Ply, Premium Center Pull Paper Towels, 6 Rolls/Case

When you buy

3

+

enMotion 1-Ply Hardwound Paper Towel Rolls, White, 6 Rolls/Case

When you buy

3

+

Charmin® Ultra Strong™ Toilet Paper, 2-Ply, 154 Sheets/Roll, 16 Rolls/Pack (83320)

When you buy

3

+

Tork® Natural Roll Towels

When you buy

3

+

Kleenex® 2-Ply Facial Tissue, Flat Box, 160 Sheets/Box, 3 Boxes/Pack

When you buy

3

+

Kleenex® Boutique Facial Tissue, 2-Ply, White, 95 Sheets/Box

When you buy

6

+
Customers also bought
Glad® 13-Gallon Drawstring Trash Bags

Quill Brand Copy Paper, 92 Bright, 20 LB, 10 Reams of 500 Sheets

When you buy

5

+

Hammermill Copy Paper, 8-1/2" x 11", 92 Bright, 20 LB, 10 Reams of 500 Sheets

When you buy

5

+

Dixie PerfecTouch 12 oz. Hot Cups 50/Pack

When you buy

10

+

Quill Plus Copy Paper, 8 1/2" x 11", 92 Bright, 20 LB, 10 Reams of 500 Sheets

When you buy

5

+

Nestle® Pure Life® Bottled Purified Water, 16.9 oz. Bottles, 24/Case

When you buy

5

+

Quill Brand® 1/3-Cut Letter File Folders

When you buy

5

+

Febreze AIR Freshener with Gain, Original Scent, 8.8 Oz., 2 Count

Quilted Northern Ultra Soft & Strong, 2-Ply, 30 Rolls/Case (963795)

When you buy

3

+

Kleenex® 3-Ply Anti-Viral Tissue

When you buy

3

+
Accessories
Dawn Professional Manual Pot and Pan Detergent, Original, 38 oz.

When you buy

4

+

Softsoap® 1-Gallon Hand Soap

When you buy

4

+

Puffs® Basic Facial Tissue, 2-Ply, Family Size, 180 Sheets/Box (PGC 84736/34457)

When you buy

24

+

Glad Force Flex 13-Gallon Trash Bags

Swiffer® 360-Degree Dusters Refills, 6/Box

When you buy

6

+

Bounty® Basic Select-A-Size™ Paper Towels, White, 1-Ply, 89 Sheets/Roll, 12 Large Rolls = 15 Regular

When you buy

4

+